Our Team in Sonora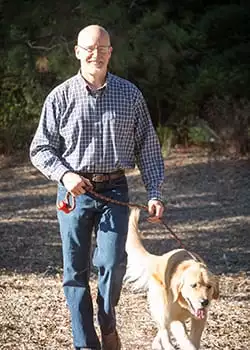 Mitch Luce
DVM, Owner
Dr. Luce attended the University of Washington to study aeronautical engineering, graduated with a BS in 1987 and went to work for Boeing in Seattle, WA. After way too many meetings, he went back to school to become a veterinarian, graduating magna cum laude from Washington State University with a Doctorate in Veterinary Medicine in 1997.
Dr. Luce enjoys helping people provide the best care for their beloved furry family members and has special interests in diagnostic ultrasound, oncology, and orthopedic and soft tissue surgery. He has two children, Ellen and Jeff, and a Golden Retriever named Moose, who loves to come to work with "Dad" and enjoys going on runs (but wishes he could chase the deer). Dr. Luce's hobbies outside of work include participating in triathlons, snowboarding, scuba diving, dancing and cooking.
Justin Uhl, DVM, MS, DACVS-SA
Veterinary Surgery Specialist
Dr. Uhl graduated with a Bachelor's Degree from UC Davis in 2002. He went on to complete a Master's Degree in comparative pathology with an emphasis on bone biomechanics in 2008 and completed his Doctor of Veterinary Medicine Degree in 2010.
After graduating from veterinary school, Dr. Uhl pursued a rotating internship followed by a surgery residency at the University of Minnesota. During his residency, he served for two years as Chief Resident and sat on the Medical Review Board at the hospital. He finished his residency in July 2014 and worked in private practice in Sacramento before starting his mobile surgery practice in April of 2018. Dr. Uhl is trained in orthopedic, neurologic, soft tissue, and minimally invasive procedures and has a special interest in surgical oncology.
Dr. Uhl enjoys spending time with his wife, Tracy, and daughters, Haley and Madison. The family also includes three dogs and one cat. Dr. Uhl enjoys participating in triathlons in his free time.
Livy Hurley
Registered Veterinary Technician
When she's not working, Livy enjoys playing guitar and hiking. She has one dog, Max, an Australian Shepherd/Husky mix who thinks he's a human.
Ashley Nauman
Veterinary Assistant
Along with Aaron, her boyfriend of five years, Ashley also enjoys the company of three pets, Nismo, an energetic Pit Bull/Retriever/Border Collie mix that loves water; Sadie, a Goldendoodle; and Bella, a Chihuahua mix that still acts like a puppy. Outside of work, Ashley loves going out on their boat, horseback riding, reading, watching football, and going to car races.
Eve Sheehan-Smith
Practice Manager
Eve earned her BA degree in Public Relations in 1988 and her MA in Mass Communication. Before having children, Eve worked in public relations, marketing and advertising. Her position with us marked her re-entry into the workforce after being a stay-at-home mom for 22 years!
Eve has three children, a married daughter, Samantha, and two sons, Ian and Kyle. Pandemonium, a Shih Tzu, is queen of the hospital and loves teasing her brothers, Snap, Crackle and Pop, and chasing them around their home. Snap has a mustache like Groucho Marx and loves being petted. Crackle is always a matted mess and loves to sleep all day and meow all night. Pop, an orange shorthair, loves cuddles and chin scratches. Eve thinks Pop is the best cat in the world, but doesn't want the other two Rice Krispie brothers to become jealous, so she keeps that a secret.
Eve's hobbies include skiing, snowboarding, water skiing, running, cycling, swimming, triathlons, gardening, and cooking (and eating!).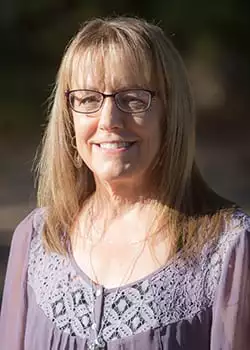 Marcia Baylis
Customer Service Representative
Marcia loves spending her free time hiking, kayaking, being at the beach and spending time with her family. She has two children, Daniel and Jenna, and greatly misses her tuxedo cat, Sophie, who loved hunting for lizards. Sophie passed away in September 2017; she was 14 years old.